I just found this on UK oicial chart website, thought you guys might be
interested as to the biggest albums in the UK since records began,
so heres the article on it:
60 years ago this month saw the birth of the Official Albums Chart – the UK's official weekly snapshot of popularity dedicated to one of the most influential art forms of our time.The first ever chart, which was published in Record Mirror on 22 July 1956, saw Frank Sinatra's Songs For Swingin' Lovers landing in the coveted Number 1 slot. Now, over half a century of vinyl, cassette, CD and download-purchasing later, nearly 1,100 albums have hit the top spot in the UK.
To mark the chart's historic milestone and kick off July's month-long anniversary celebrations, OfficialCharts.com can today unveil the 60 biggest selling albums of all time here in Britain, as compiled by the Official Charts Company.
MORE: Look back at the official biggest selling album of every year since 1956
The "60 at 60" list also forms the centrepiece of an in-store retail campaign, which sees Official Charts team up with the three major record labels and outlets including Sainsbury's, Tesco, Asda, Amazon and Morrisons to promote and sell some of the UK's biggest selling albums this summer.
Topping the all time best sellers list is
Queen
's 1981 Greatest Hits, and stands alone as the first and only album to have sold over 6 million copies in the UK (6.1 million sales to date). Queen's Greatest Hits II also makes it into the Top 10 at Number 10 with almost 4 million albums sold.
"What a great bit of news to wake up to!" Brian May told OfficialCharts.com. The most popular album? Well, I always thought the band showed promise, but this is beyond our boyhood dreams! Thanks folks!"
Roger Taylor added: "Incredible... marvellous... humbling... thank you... I feel good!"
Click on the image below to look at Queen's incredible 729 week-by-week Official Chart run: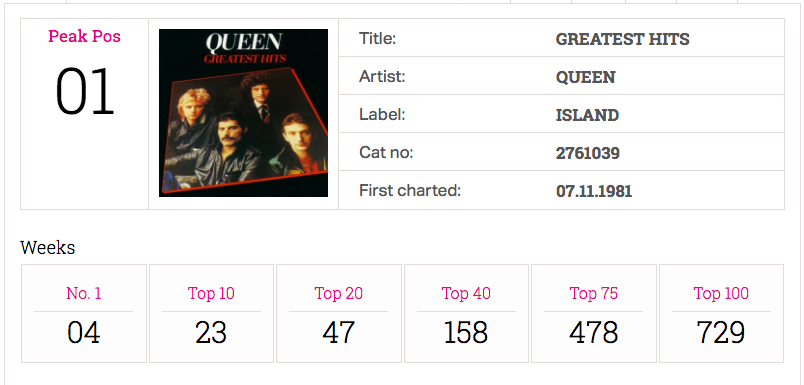 The record is also set for yet another boost later this year as a new double album gatefold vinyl edition hits shops in Autumn.
Meanwhile,
ABBA – Gold: Greatest Hits
is the UK's second biggest-selling album of all-time – nearly 5.2 million units have been shifted since its release in 1992.
The best-selling studio album in Britain comes courtesy of The Beatles - Sgt. Pepper's Lonely Hearts Club Band (3) is also the only other release in history to break the five million UK sales barrier (5.1 million).
Click here to look back at The Beatles' full Official Chart history
.
Adele
's 2011 phenomenon 21, featuring Someone Like You, remains unmoved at Number 4 while
Oasis
' (What's The Story) Morning Glory? rounds out the Top 5 approaching 4.7 million sales.
The rest of the Top 10 features two entries from
Michael Jackson
; Thriller and Bad sit at 6 and 9 respectively.
Pink Floyd
's The Dark Side of the Moon (7) is the only record in the Top 10 that has never topped the weekly chart, peaking at Number 2 instead, while
Dire Straits
' Brothers in Arms lands at Number 8.
With a total of four entries,
Robbie Williams
makes the most appearances of any individual within the Top 60, counting two of his solo releases (I've Been Expecting You at 48 and Swing When You're Winning at 56) and two Take That best-sellers (Progress at 57 and Never Forget – The Ultimate Collection at 59). Robbie also scored the 1000[SUP]
th
[/SUP] Number 1 album back in 2013 with Swings Both Ways.
Take That
have a third inclusion on the long list with Beautiful World at Number 34, their first album without Robbie. Also with three entries on the list are Coldplay with their albums A Rush of Blood to the Head (31), X&Y (40) and Parachutes (45). Acts with two albums apiece in the Top 60 include Michael Jackson, Queen, The Beatles, Adele, Dido, ABBA, Paul Simon (including Simon & Garfunkel) and Fleetwood Mac.
[h=4]Adele's record-breaking 25 secures all-time placing just seven months after release[/h]While Adele's 21 might be her personal best overall, it's her latest offering 25 that causes the biggest disruption to today's newly-unveiled list, rocketing into the all-time Official Albums Chart Top 30 at Number 27 after just seven months on sale.
25 broke a slew of chart records following its release back in November 2015 when it became the fastest-selling album of all time in the UK, beating Oasis' Be Here Now to the highest ever first week sales as British shoppers snapped up a staggering 800,000 copies in its opening week.
Not content with stopping there,
25 smashed through the million sales threshold in just 10 days
, setting a new land speed record for a million-selling album in Britain, the previous record being held by Oasis' Be Here Now (17 days) also. It came as little surprise when
Adele then went on to hurtle through the 2 million barrier by its 29[SUP]

th

[/SUP] day on sale
, overtaking title holders Robson & Jerome whose 1995 debut album took 42 days to cover the same ground.
In the time since the all-time Top 60 list was compiled, 25 has proven unstoppable by bulldozing through the 3 million units marker, receiving a 10x Platinum certification from the BPI.
[h=4]Ed Sheeran scores first-time entry into the list with X[/h]Another notable new entry to the list is Ed Sheeran, whose second studio album X breaks into the chart at Number 49, giving him his first appearance among Britain's most-loved LPs of the past 60 years.
An impressive run of form over recent years has seen the Suffolk singer-songwriter notch up nearly 2.6 million sales of 2014 release X. X has spent 13 weeks at Number 1 on the Official Albums Chart and, incredibly, has never left the Top 100 since its release two years ago (
Click to look at X's week-by-week run on the Official Chart
).
Ed was also the f
irst recipient of the 24ct gold-plated Official Number 1 Album Award
when the scheme launched one year ago this week. Ed was presented with the award on stage at Wembley Stadium in July 2015 where he made history by becoming the first solo performer to headline the legendary venue.
Commenting on this list, Official Charts chief executive Martin Talbot said: "In celebration of 60 years of the UK's Official Album Chart, it is fantastic that we can crown Queen as the kings of the Anniversary Top 60. With seven albums by British acts in the all-time Top 10, and Adele's 21 now challenging The Beatles' Sgt Pepper to be the biggest selling studio album of all time, it is a great list for homegrown talent.
"And the fact that Adele's latest album 25 is riding into the overall Top 30, along with Ed Sheeran's X, underlines the power of the Official Albums Chart in championing great British talent, young and old. Happy birthday to the UK's Official Albums Chart!"