ROSANNE CASH –

She Remembers Everything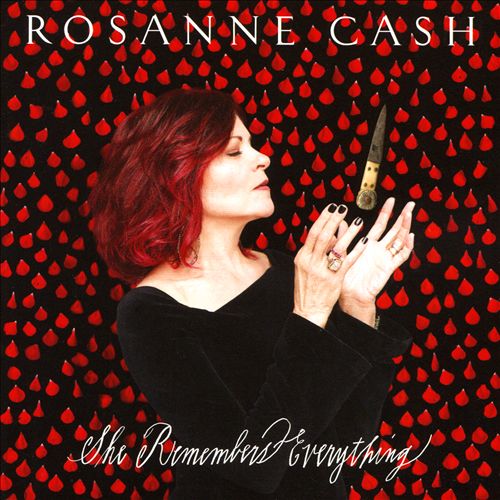 I have never listened to Rosanne Cash before – probably should have! She errs more on the side of folk and Americana than country, certainly on this release – there's a leetle touch of a twangy Western sound about it in places (which to me evokes the sound of the Twin Peaks theme and Calexico – the best 'sounds like' I can come up with!) – not sure what it is – could be the baritone guitar. I like it.
Steady arrangements largely thanks to husband, John Leventhal (who had a hand in co-writing and who also has a most impressive CV, inclusive of playing with Paul Simon, David Crosby, Jackson Browne, Marc Cohn, Charlie Haden, Emmylou, Levon Helm, Donald Fagan, Bruce Hornsby, etc.,), there are lovely instruments here and it's sooo good when you can hear that these are musicians who are right at home with what they're doing. Given her lineage, it's no surprise that she's an accomplished singer/songwriter who knows how to wield a pen as well as her voice (which incidentally reminds me a bit of Dani Klein now and then, in a diluted but not wishy washy way). Just look at this –
Light is particle and wave
Our history's written large upon the page
The star in middle age
The love that fades to black
Once revealed, won't be taken back

Light nothing can escape
The ignorance we once forgave
The future if we don't decide to change
The things we cannot save
But it slows to shine upon your face
We owe everything
Everything
Everything
To this rainbow of suffering

Light is particle and wave
Reflections of this place
Refractions of our grace
It reveals what we won't dare
And it's slow so I can hold you near
Intelligent, never overwrought or overproduced, serious but not dire, she has the good sense to enlist contributions from artists with heft – how much longer can we expect to hear from Kris Kristofferson for example? He and Elvis Costello both appear on "8 Gods of Harlem", Colin Meloy (Decemberists) shows up intermittently and the title track is shared with Sam Phillips. I think that this is an album you can listen to several times and keep discovering little gems. There are no jarring moments, it's mature, measured, warm, confident music making; sometimes, there's not a whole lot more one can ask for!
Some tracks … 
"The Undiscovered Country" -
https://www.youtube.com/watch?v=KISFVpgoq1s
"8 Gods of Harlem" -
https://www.youtube.com/watch?v=4NprdPrPnPI
"Rabbit Hole" -
https://www.youtube.com/watch?v=WELpb60a9-E
"Particle and Wave" -  
https://www.youtube.com/watch?v=9m2RLr-iCAU
"She Remembers Everything" -
"The surest sign that intelligent life exists elsewhere in the universe is that it has never tried to contact us." ~
Bill Watterson